Cities and urban areas are where global issues are decided: Climate change, social justice, healthy living and working of the future. The real estate industry plays a significant role in answering these questions. We make an active contribution on the way to a sustainable, resilient and livable city. And we can only be successful in the long term in a stable economic environment if we pay attention to the overall well-being of the environment and people.

As a property developer and investment manager, the responsible use of people and resources is of utmost importance to us. We have set ourselves important sustainability goals in ethical, social, ecological and corporate terms. We focus on three areas here: Environment, Social and Governance (ESG). These ESG criteria are firmly embedded in our corporate culture and form the basis for corporate governance that is aligned with strong values.
k

Bees move into the Ham­burg City Park (2021)

CO2 savings through con­ver­si­on to green ener­gy (2020−2023) in t

+

Cri­te­ria within the Quan­tum ESG Scoring (depen­ding on type of use)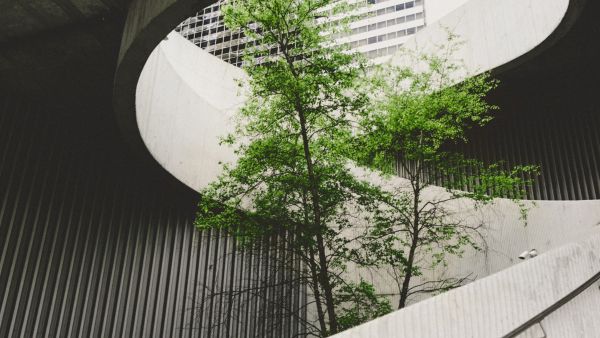 We want to make future viability measurable: In order to reliably analyse social and ecological criteria of a property we have developed Quantum ESG scoring. This enables us to systematically consider criteria such as CO2 emissions, resource conservation, social tenant management, healthy living and working or combating inequalities when making investment decisions. We can therefore evaluate opportunities and risks on a property-specific basis.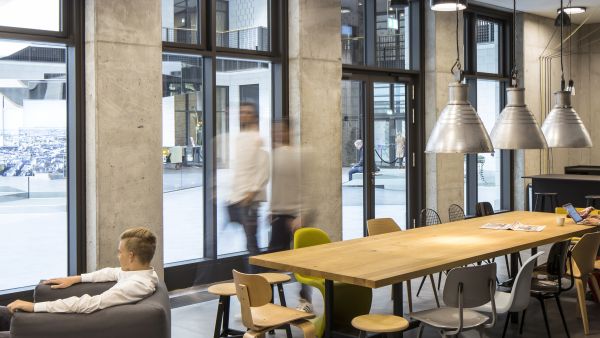 Modern and healt­hy working environments
Sustainable, healthy office environments are part of a sustainable property economy. New information and communication strategies make it possible to work across spatial boundaries, and flexible office concepts are becoming more and more important. We support mobile working and the smart office concept to reduce the environmental impact, achieve better energy efficiency, and focus on holistic building concepts that create healthy working environments. Not least, the urban environment with its diversity of facilities and broad mix of uses also plays an important role.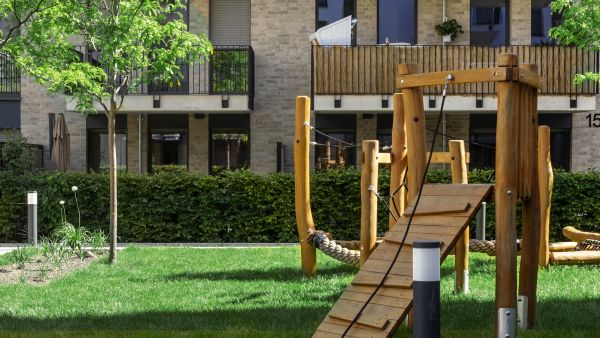 Social housing
For us, a focus on sustainable property management also means social and target-group-oriented housing provision. In our investments and developments, for example, we pay attention to flexible and accessible building structures and a balanced mix of housing in an environment characterised by a variety of uses. Ensuring affordable housing and social tenant management are just as much a part of social housing provision as housing solutions for single-person households, families, older people or people with special needs.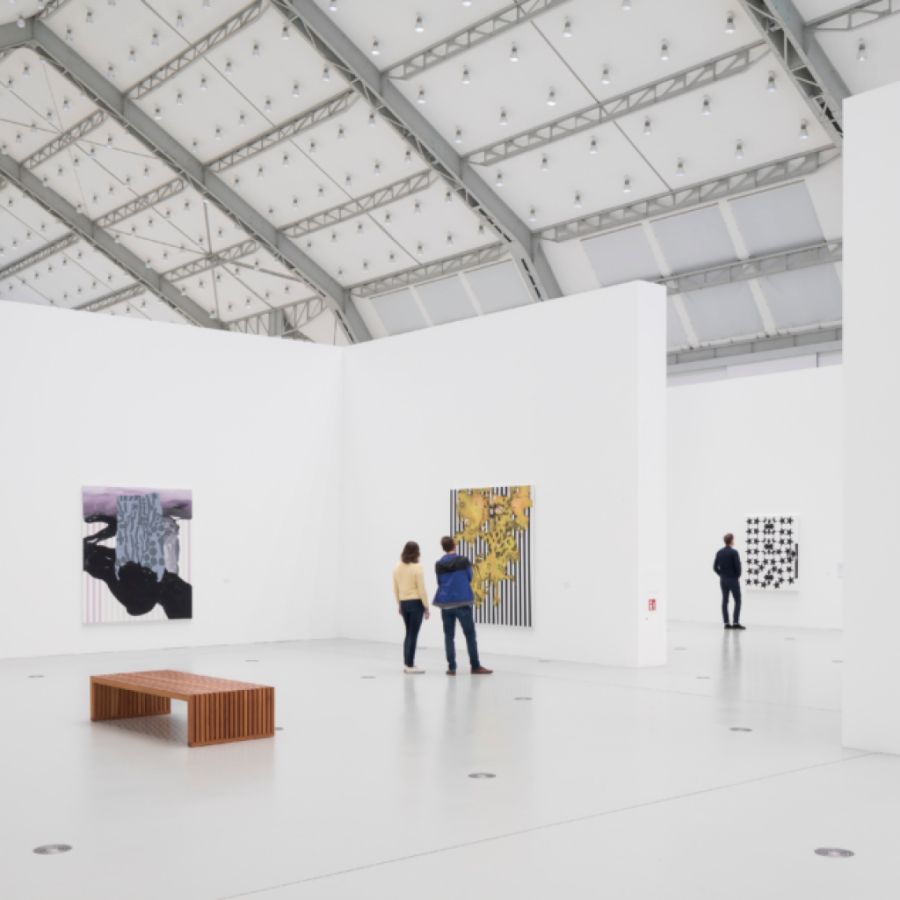 Enga­ge­ment
The following projects are regularly supported by Quantum:
Freundeskreis Kinderklinik
Kinderklinik Altona
Förderkreis Deichtorhallen
Licht-Kunst-Speicherstadt e.V.
Hamburgische Kulturstiftung
Initia­ti­ves
We are members of national and international industry associations and federations that promote sustainability in the property industry. We are supported in our sustainability projects by specialised consultancies.
Glos­sa­ry
C2C (Cradle-to-Cradle)

The principle of "Cradle-to-Cradle" (C2C) stands for a sustainable economic principle in which all raw materials are recycled again at the end of their life and waste is not produced in the first place. The aim is to preserve the material quality and avoid downcycling with a loss of quality. A distinction is made between the circulation of biological and technical cycles. Biodegradable products are returned to the nutrient cycle; unmixed, separable products are returned to the technical cycle. The implementation of C2C in the property sector focuses on the recovery of materials, the use of renewable energies and the promotion of diversity. The C2C building serves as a raw material depot and has a positive ecological footprint.

German Sustainability Code (DNK)

The German Sustainability Code (DNK) is aimed at companies and organisations. The transparency standard describes sustainability performance in 20 criteria and in a selection of quantifiable performance indicators in a comprehensible and comparable form, the so-called DNK Declaration. They can be used to assess how companies anchor sustainability in their core business. Opportunities and risks are made visible and can be managed proactively.

ESG

The abbreviation "ESG" stands for Environment, Social and Governance and has become the most popular definition of sustainability in the field of sustainable investments. The three levels or dimensions of sustainability are intended to paint a comprehensive picture - because "sustainable" does not only refer to our environment, the reduction of emissions and a responsible use of natural resources. Equally important are good relations with employees, business partners and customers, and also a commitment to civil society and equal opportunities.

GRESB (Global Real Estate Sustainability Benchmark)

The international rating system GRESB (Global Real Estate Sustainability Benchmark) evaluates the sustainability performance of property investments and property companies. The GRESB score is calculated with the use of differently weighted indicators from the environmental, social and governance (ESG) areas, which enables a direct comparison with the market environment. In this way, the standardised benchmark contributes to transparency and guidance within the sector, so that sustainable property investments can be compared across portfolios and over time.

GRI (Global Reporting Initiative)

The Global Reporting Initiative (GRI) is an ongoing international dialogue on corporate reporting in which companies and their stakeholders participate. The GRI develops guidelines with the aim of increasing the quality of reporting, standardising it and thus making it more comparable. A selection of GRI performance indicators complements the reporting of the DNK.

SDG (Sustainable Development Goals)

The 17 development goals of the 2030 Agenda for Sustainable Development link the principle of sustainability with economic, ecological and social development. The goal system of the 2030 Agenda is universal and applies equally to developing, emerging and industrialised countries. The new Agenda is intended to provide the basis for a transformed global partnership. The Development Goals were adopted by the United Nations (UN) General Assembly and have been in force since 1 January 2016 for a period of 15 years (until 2030).

Stranded Asset

Stranded assets are assets whose market value declines rapidly to the point where they are largely worthless. The cause of stranding can be functional, physical, technical, environmental or economic. The risk of stranding is currently being discussed against the backdrop of climate change. It describes the risk of default of the property due to non-compliance with the Paris climate protection agreement. Key parameters in a climate protection-related stranding risk analysis are CO2 emissions and energy consumption. To avoid stranding, buildings or the technical components may need to be optimized in terms of energy over the course of their life cycles.

We also determine the potential time of "stranding" for purchases as part of ESG DD. For our portfolios, the determination is part of the ongoing portfolio screening.


Taxonomy

The taxonomy is a classification system for ecologically sustainable activities of companies. It evaluates individual business lines or activities, not the company as a whole. The taxonomy covers six objectives:

1. Climate protection

2. Adaptation to climate change

3. Sustainable use and protection of water and marine resources

4. Transition to a circular economy, waste prevention and recycling

5. Pollution prevention and control

6. Protection of healthy ecosystems

A line of business is considered environmentally sustainable only if it contributes to one of the six goals and does not harm any of the others (Do No Significant Harm rule). The taxonomy applies in principle to all funds. However, its application is voluntary unless the investments are explicitly designated as sustainable. In the future, sustainable funds (according to Art. 8 and 9 of the Disclosure Regulation) must report the share of investments according to the criteria of the taxonomy. The technical criteria for the first two targets will come into force from 2022, those for the four other targets from 2023.

Funds that are not considered sustainable will only have to inform that they do not invest in accordance with the taxonomy.


UN Global Compact

The UN Global Compact is a United Nations initiative for companies that commit to aligning their business operations with ten principles of sustainability. These include human rights, labour standards, environmental protection and anti-corruption. Participating companies report regularly on the implementation of the ten principles in the "Communication on Progress (COP)", e.g. in the company's annual report.